By: Philip Snyder
HAPPY TRAILS BLACK FRIDAY #OPTOUTSIDE RUN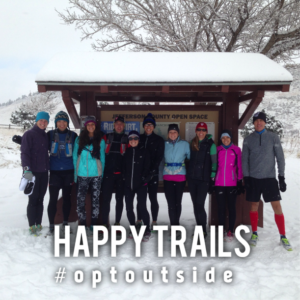 Thanksgiving is a great time to be a runner, what with all of the Turkey Trot races going on. However trail running seems to be overlooked this time of year. The major trail races have finished up, and with the exception of the Western States and Hard Rock lotteries in early December there isn't much to look forward to, except maybe the start of ski-mo season.
What better way to get some late season miles in and avoid the madness of the Holiday Season than by following REI's lead and opting to choose to spend Black Friday outdoors. For the second year in a row, we have moved our monthly trail run, Happy Trails Run Club, up a day to coincide with #optoutside. This year we have added a charitable element to it by collecting running shoes and non-perishable food donations for One World Running and local community food banks with the help of the guys at Suffer Better.
We ran at White Ranch north of Golden, starting at the lower parking lot, and heading up Belcher Hill towards Mustang Trail, from there we will offered a couple of options to either go short or long depending on trail conditions, weather and general enthusiasm of the group.
The weather was better than last year's Black Friday, but regardless, this is Colorado and there is no such thing as bad weather, just bad gear. Thanks to everyone who joined us on Black Friday and #optoutside.